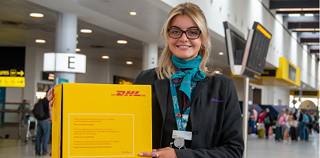 Skybreak provide lost property solutions for passengers arriving into Gatwick on flights operated by our airlines clients who have left items onboard the aircraft. If you have a question regarding our Lost Property service then hopefully you can find the answer from our FAQ's below. 
If you are looking for lost property solutions please contact our lost property team.  
How do I register my lost item?
If you have lost something onboard a one of our airline partners arriving into Gatwick please register your item as lost by following the link.
Register your Lost Item
How do you match my lost item with the items handed in?
All the items found are logged in our lost and found system by category and with full descriptions. This information is then matched with the information provided by you, so the more details you can provide the quicker it is to match your item accurately.
How long does it take for items to be found?
The items collected from the aircraft are passed to our secure offices in weekly collections. Depending on the details we hold on items, once received they can be matched within 48hrs.
How will I be kept up-to-date with progress on my missing item?
We will contact you when you first log your item as missing to confirm receipt of your enquiry. If your item is found in the next collection you will then be contacted again to confirm the item matched is yours.
As we sort, process and store many items we will keep your enquiry open for a minimum of 30 days to maximise the opportunity to match your item.
I have not received a notification from you
As soon as you have logged an item our system will generate an email confirmation to you. If you do not receive this, please check your junk folder. The email will show as sent from lostandfound.
If you are still unable to locate it please contact reunited@skybreak.com
I have not been reunited with my item, why?
We are only able to re-unite items that have been passed to us from the handling agent and are in our inventory. If your item was not retrieved by the handling agent from the aircraft then it will not be in our inventory to be matched.
What are your opening hours?
Our Lost Property team are available Monday - Friday (excluding bank holidays) between the hours of 0900 - 1700, to answer your queries and arrange details of your collection or shipping.
We have an out of hours team who can action pre-arranged collections on behalf of the Lost Property Team.
Is there a charge to be reunited with my item?
Yes there is a fee to be reunited with your item, which covers the secure storage and administration of your item whilst it is in our care. These fees are variable depending on the item lost and details of these fees are in the terms and conditions.
How will I be reunited with my item?
Your item can be collected in person from our offices at Gatwick Airport, or we can arrange for your item to be shipped to a location specified by you.
I have another question...
If you have a question that has not been covered in our FAQ's page then you can submit it to our Lost Property team by emailing reunited@skybreak.com
What happens to unclaimed items
After the holding period (detailed in our terms and conditions) unclaimed items will either be donated to charity or sent away to public auction. We cannot disclose where these auctions are due to take place.