Chestnut Tree House Dec 2019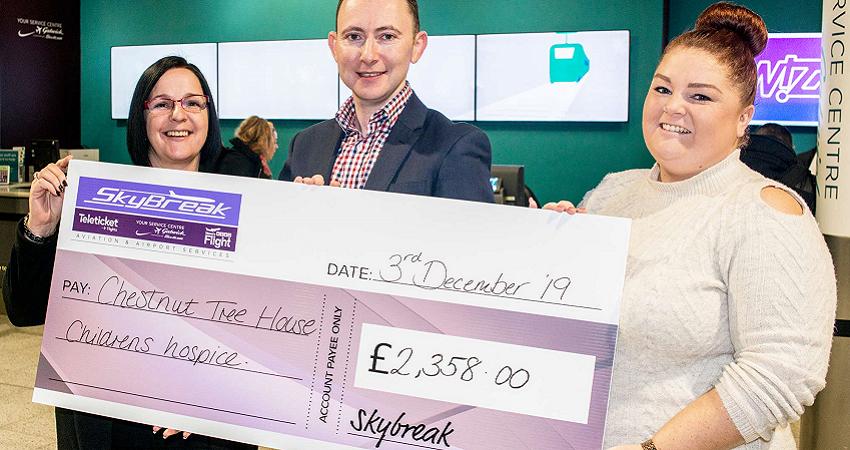 Picture shows (from left to right) Denise Gouveia, Jonathan Adams, both from Skybreak and Amber Lilly from Chestnut Tree House.
Skybreak hands big cheque to local charity
Skybreak, the specialist airport representation company headquartered at Gatwick Airport, has today presented a cheque to Chestnut Tree House Children's Hospice for an impressive £2,358 raised solely through the efforts of its staff.
Amber Lilly, Corporate Fundraiser, at Chestnut Tree House explains:" Chestnut Tree House is your local children's hospice. Thanks to people in your community, local children and their families who know they don't have long together live life to the full and, when the time comes, say goodbye in the way they want."
Skybreak tasked their apprentices with a challenge to raise funds; providing a small amount of money to kick-start their efforts. There were several activities including cake sales, sponsored initiatives and a special VIP evening event.
Lecia Taylor, Commercial Director of Skybreak, explains: "We deal with customers from all over world every day – providing assistance for passengers who need a little extra help with travel or people who have missed their flight. Our teams, however, all live close to Gatwick Airport and wanted to raise funds for a charity within the local community.
We have partnered with Chestnut Tree House on several successful initiatives over the past few years such as behind the scenes visits with exclusive VIP access for the hospice residents, so it made sense to give this money to them."
"On behalf of everyone at Chestnut Tree House, I would like to say a huge thank you to the team at Skybreak for your support. Your support helps make every day count. The good days, the bad days and the last days", adds Amber.
Having first opened its doors in 2003, Chestnut Tree House Children's Hospice currently cares for 300 life-limited children, both at the hospice and in families' own homes. The hospice offers several types of support which include; end of life care, psychological and bereavement support and short-break care.