Your Service Centre - a Skybreak brand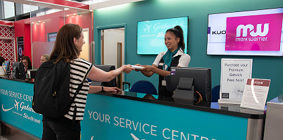 Your Service Centre have been based in the north & south terminals at London Gatwick Airport for more than 25 years. Through Your Service Centre, Skybreak provide a professional airline and tour operator representation service.
Our role includes processing excess baggage charges, making ticket amendments / collections and the meeting and assisting passengers at the airport, who may need to make last minute travel arrangements as a result of missed or cancelled outbound flights.  
Services offered by Your Service Centre
Last minute flight, hotel and transportation bookings for missed passengers
Airline Representation Services, including collections, ticketing and disruption assistance
Tour Operator Representation Services including flight monitoring, collections and reporting