Skybreak Passenger Services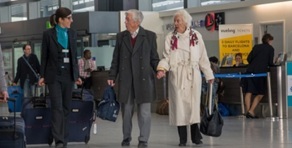 Skybreak is an independent travel representation company based at Gatwick Airport. With over 30 years' experience, Skybreak prides itself on providing the highest level of customer service on behalf all its clients. Skybreak work with a wide range of clients from small niche travel companies to worldwide tour operators, airlines and international airports.
Skybreak are available 365 days a year in person at London Gatwick Airport. More recently we have invested in our technology to be able to offer our services remotely to passengers via video calls or live chat.

Our uniformed staff provide a professional service to both the passengers and airlines and tour operators, and as many of our staff are multilingual we are able to offer a high standard of customer care for all passengers based in the UK and overseas.
Bullet points for page
Bullet 1 - Message relating to our standards and services etc
Bullet 2 - Message relating to our standards and services etc
Bullet 3 - Message relating to our standards and services etc

Template
123 123456 123456455
System.Web.HttpException (0x80004005): Error executing child request for handler 'System.Web.Mvc.HttpHandlerUtil+ServerExecuteHttpHandlerAsyncWrapper'. ---> System.NullReferenceException: Unable to get Form with ID: 'e2f502db-c800-4025-abfa-e35a398e9691' off disk or from the cache. Check the file exists on disk
   at Umbraco.Forms.Data.Storage.FormStorage.GetForm(Guid id)
   at Umbraco.Forms.Web.Controllers.UmbracoFormsController.GetForm(Guid formId)
   at Umbraco.Forms.Web.Controllers.UmbracoFormsController.GetFormModel(Guid formId, Nullable`1 recordId, String theme)
   at lambda_method(Closure , ControllerBase , Object[] )
   at System.Web.Mvc.ControllerActionInvoker.InvokeActionMethod(ControllerContext controllerContext, ActionDescriptor actionDescriptor, IDictionary`2 parameters)
   at System.Web.Mvc.Async.AsyncControllerActionInvoker.<>c.<BeginInvokeSynchronousActionMethod>b__9_0(IAsyncResult asyncResult, ActionInvocation innerInvokeState)
   at System.Web.Mvc.Async.AsyncResultWrapper.WrappedAsyncResult`2.CallEndDelegate(IAsyncResult asyncResult)
   at System.Web.Mvc.Async.AsyncControllerActionInvoker.EndInvokeActionMethod(IAsyncResult asyncResult)
   at System.Web.Mvc.Async.AsyncControllerActionInvoker.AsyncInvocationWithFilters.<InvokeActionMethodFilterAsynchronouslyRecursive>b__11_0()
   at System.Web.Mvc.Async.AsyncControllerActionInvoker.AsyncInvocationWithFilters.<>c__DisplayClass11_1.<InvokeActionMethodFilterAsynchronouslyRecursive>b__2()
   at System.Web.Mvc.Async.AsyncControllerActionInvoker.AsyncInvocationWithFilters.<>c__DisplayClass11_1.<InvokeActionMethodFilterAsynchronouslyRecursive>b__2()
   at System.Web.Mvc.Async.AsyncControllerActionInvoker.AsyncInvocationWithFilters.<>c__DisplayClass11_1.<InvokeActionMethodFilterAsynchronouslyRecursive>b__2()
   at System.Web.Mvc.Async.AsyncControllerActionInvoker.AsyncInvocationWithFilters.<>c__DisplayClass11_1.<InvokeActionMethodFilterAsynchronouslyRecursive>b__2()
   at System.Web.Mvc.Async.AsyncControllerActionInvoker.EndInvokeActionMethodWithFilters(IAsyncResult asyncResult)
   at System.Web.Mvc.Async.AsyncControllerActionInvoker.<>c__DisplayClass3_6.<BeginInvokeAction>b__3()
   at System.Web.Mvc.Async.AsyncControllerActionInvoker.<>c__DisplayClass3_1.<BeginInvokeAction>b__5(IAsyncResult asyncResult)
   at System.Web.Mvc.Async.AsyncControllerActionInvoker.EndInvokeAction(IAsyncResult asyncResult)
   at System.Web.Mvc.Controller.<>c.<BeginExecuteCore>b__152_1(IAsyncResult asyncResult, ExecuteCoreState innerState)
   at System.Web.Mvc.Async.AsyncResultWrapper.WrappedAsyncVoid`1.CallEndDelegate(IAsyncResult asyncResult)
   at System.Web.Mvc.Controller.EndExecuteCore(IAsyncResult asyncResult)
   at System.Web.Mvc.Async.AsyncResultWrapper.WrappedAsyncVoid`1.CallEndDelegate(IAsyncResult asyncResult)
   at System.Web.Mvc.Controller.EndExecute(IAsyncResult asyncResult)
   at System.Web.Mvc.MvcHandler.<>c.<BeginProcessRequest>b__20_1(IAsyncResult asyncResult, ProcessRequestState innerState)
   at System.Web.Mvc.Async.AsyncResultWrapper.WrappedAsyncVoid`1.CallEndDelegate(IAsyncResult asyncResult)
   at System.Web.Mvc.MvcHandler.EndProcessRequest(IAsyncResult asyncResult)
   at System.Web.Mvc.HttpHandlerUtil.ServerExecuteHttpHandlerWrapper.<>c__DisplayClass5_0.<Wrap>b__0()
   at System.Web.Mvc.HttpHandlerUtil.ServerExecuteHttpHandlerWrapper.Wrap[TResult](Func`1 func)
   at System.Web.HttpServerUtility.ExecuteInternal(IHttpHandler handler, TextWriter writer, Boolean preserveForm, Boolean setPreviousPage, VirtualPath path, VirtualPath filePath, String physPath, Exception error, String queryStringOverride)
   at System.Web.HttpServerUtility.ExecuteInternal(IHttpHandler handler, TextWriter writer, Boolean preserveForm, Boolean setPreviousPage, VirtualPath path, VirtualPath filePath, String physPath, Exception error, String queryStringOverride)
   at System.Web.HttpServerUtility.Execute(IHttpHandler handler, TextWriter writer, Boolean preserveForm, Boolean setPreviousPage)
   at System.Web.HttpServerUtility.Execute(IHttpHandler handler, TextWriter writer, Boolean preserveForm)
   at System.Web.Mvc.Html.ChildActionExtensions.ActionHelper(HtmlHelper htmlHelper, String actionName, String controllerName, RouteValueDictionary routeValues, TextWriter textWriter)
   at System.Web.Mvc.Html.ChildActionExtensions.RenderAction(HtmlHelper htmlHelper, String actionName, String controllerName, Object routeValues)
   at ASP._Page_Views_MacroPartials_InsertUmbracoFormWithTheme_cshtml.Execute() in D:\inetpub\wwwroot\SkybreakUmbracoCMS\Views\MacroPartials\InsertUmbracoFormWithTheme.cshtml:line 47
   at System.Web.WebPages.WebPageBase.ExecutePageHierarchy()
   at System.Web.Mvc.WebViewPage.ExecutePageHierarchy()
   at System.Web.WebPages.WebPageBase.ExecutePageHierarchy(WebPageContext pageContext, TextWriter writer, WebPageRenderingBase startPage)
   at Umbraco.Core.Profiling.ProfilingView.Render(ViewContext viewContext, TextWriter writer)
   at Umbraco.Web.Mvc.ControllerExtensions.RenderViewResultAsString(ControllerBase controller, ViewResultBase viewResult)
   at Umbraco.Web.Macros.PartialViewMacroEngine.Execute(MacroModel macro, IPublishedContent content)
   at umbraco.macro.LoadPartialViewMacro(MacroModel macro)
   at umbraco.macro.renderMacro(Hashtable pageElements, Int32 pageId)
   at Umbraco.Web.UmbracoComponentRenderer.RenderMacro(macro m, IDictionary`2 parameters, page umbracoPage)
   at ASP._Page_Views_Partials_grid_editors_Macro_cshtml.Execute() in D:\inetpub\wwwroot\SkybreakUmbracoCMS\Views\Partials\grid\editors\Macro.cshtml:line 15
   at System.Web.WebPages.WebPageBase.ExecutePageHierarchy()
   at System.Web.Mvc.WebViewPage.ExecutePageHierarchy()
   at System.Web.WebPages.WebPageBase.ExecutePageHierarchy(WebPageContext pageContext, TextWriter writer, WebPageRenderingBase startPage)
   at Umbraco.Core.Profiling.ProfilingView.Render(ViewContext viewContext, TextWriter writer)
   at System.Web.Mvc.Html.PartialExtensions.Partial(HtmlHelper htmlHelper, String partialViewName, Object model, ViewDataDictionary viewData)
   at ASP._Page_Views_Partials_grid_editors_Base_cshtml.Execute() in D:\inetpub\wwwroot\SkybreakUmbracoCMS\Views\Partials\grid\editors\Base.cshtml:line 20